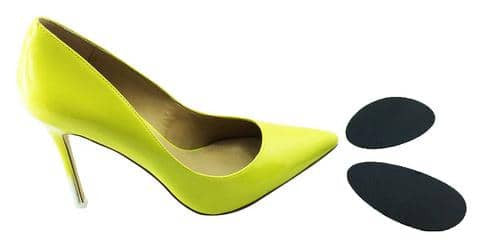 Scarlet Sole Shielder
Stick-On Pad to Instantly Repair & Shield Shoe Sole
Product Summary
PROTECTS OUTER SOLE & EXTENDS SHOE LIFE

REDUCES NOISE, PROVIDES COMFORT & IS ANTI-SLIP

100% MONEY BACK GUARANTEE

FREQUENTLY BOUGHT WITH SCARLET HEEL TIP LITE FOR FULL SHOE PROTECTION 

INCLUDES: SOLE SHIELDER AND AN INSTRUCTION CARD
A perfect preventive care solution for the sole of your shoes while the soles still have treads
Scarlet  Sole Shielder is a Stick-On solution to Instantly Repair & Shield Shoe Sole. It's Anti-Slip & Noise Reducing. 
WHY DO I NEED THIS? Protect the sole of your brand new shoe or an in-use favorite pair of shoe from wear out, or increase the life of an already worn out shoe. 
PROTECTS OUTER SOLE & EXTENDS SHOE LIFE: We recorded over 100 K steps (~50 walking miles) and the Sole Shielder was still fresh.
REDUCES NOISE, PROVIDES COMFORT & IS ANTI-SLIP: Manufactured with material engineered to minimize clacking sound from shoe sole, provide comfort to your feet, and prevent slipping or tripping
GUIDE PLEASE: Scarlet Sole Shielder is often bought together with Scarlet Heel Tip LITE to Instantly provide Full Shoe protection. 
100% MONEY BACK GUARANTEE: Product performance & customer satisfaction guaranteed! Read more about us on FB and Twitter @LoveMyDressShoe
                                     Join our  #SavingAShoeIsSavingTheEarth Pledge 
Detailed Description
SCARLET's Sole Shielders are discreet, quick and easy stick-on solution to prevent the wear out of the shoe sole or to protect the already worn out shoe sole. IDEAL USE: Women's dress shoes, high heeled stilettos, boots, sandals and flat comfortable shoes. This product is a perfect choice for a busy woman who loves to keep her shoes fresh. 
Women love Scarlet's Sole Shielders! If you are not satisfied for any reason or have comments/questions, please email us at contact@scarletfreshshoe.com. Customer satisfaction is our #1 priority and we'll do whatever it takes to make you happy.
DIRECTIONS TO USE: With Recipe #ScarletRecipe301; it takes 3 basic steps and less than a minute to stick-on the Sole Shielder. STEP 1: Clean & dry shoe sole surface.  STEP 2: Remove adhesive lining from Sole Shielder. STEP 3: Press sole firmly on the shoe
SIZING GUIDE: Sole Shielder has been designed to fit shoe soles of all sizes.