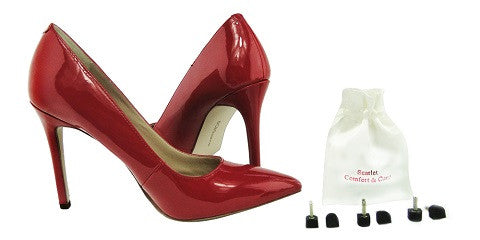 Scarlet Heel Tip
Replacement Dowel Shoe Repair to Increase Shoe Life & Reduce Noise
Product Summary
70% LONGER HEEL TIP LIFE

40% REDUCED CLACKING NOISE

COMFORTABLE & ANTI-SLIP

100% MONEY BACK GUARANTEED

INCLUDES:  SCARLET HEEL TIPS & A REFERENCE GUIDE
Watch Scarlet Recipe # 422 to learn to  change Heel Tips on your favorite pairs of shoes.
Scarlet Heel Tip Replacement Dowel provides a Long Lasting & Noise Reducing shoe repair for Heels. 
WHY DO I NEED THIS? You simply love your dress shoe and the thought of parting from them gives you goosebumps. They have worn out heels and you do not hesitate to grab a pair of pliers to remove the old worn out tips and replace with brand new Scarlet Heel Tips. We even made you a video that outlines a simple 2-minute process to do so (check 'How To Use' tab). 
70% LONGER LIFE: Uniquely engineered with wear resistant material to last longer than other regular heel tips. Recorded over 185 K steps (~87 walking miles), and Scarlet Heel Tip was still fresh.
40% REDUCED CLACKING NOISE:  Engineered to minimize clacking sound on your high heels. When measured using a sound level meter, the original heel tips for high heels recorded sound of 80 decibels (equivalent to being constantly on the curbside of a busy street) whereas Scarlet Heel Tip recorded a sound of 48 decibels (equivalent to constantly being in a private office). 
COMFORTABLE & ANTI-SLIP: Unique design and material feel comfortable to the foot. The threaded finish on the bottom of the heel tip provides anti-slip properties, preventing slipping or tripping in high heels.
GUIDE PLEASE: Scarlet Heel Tip Replacement Dowels is often bought together with Long Nose Pliers and Lightweight Hammer (tools for Stilleto shoe repair)
100% MONEY BACK GUARANTEE: Product Performance & Customer Satisfaction Guaranteed! Read more about us on FB and Twitter @LoveMyDressShoe
SIZING:
Varying size Metal Pins: 3 pairs of the same size heel caps with varying size metal pins (2.5 mm (S), 2.9 mm (M) and 3.04 mm (L)) ensures that one will fit your shoe heel perfectly.
Varying size Heel Tips (Cap): 3 different size Heel Tips (e.g., 9*9, 10*10, 11*11 at 2.9 mm metal pin size) is perfect when you know the diameter of the metal pin that will fit your shoe heel
For tips & tricks; watch our video in How To Use tab. 
                                                Join our  #SavingAShoeIsSavingTheEarth Pledge
Watch Scarlet Recipe # 422 to learn to  change Heel Tips on your favorite pairs of shoes.