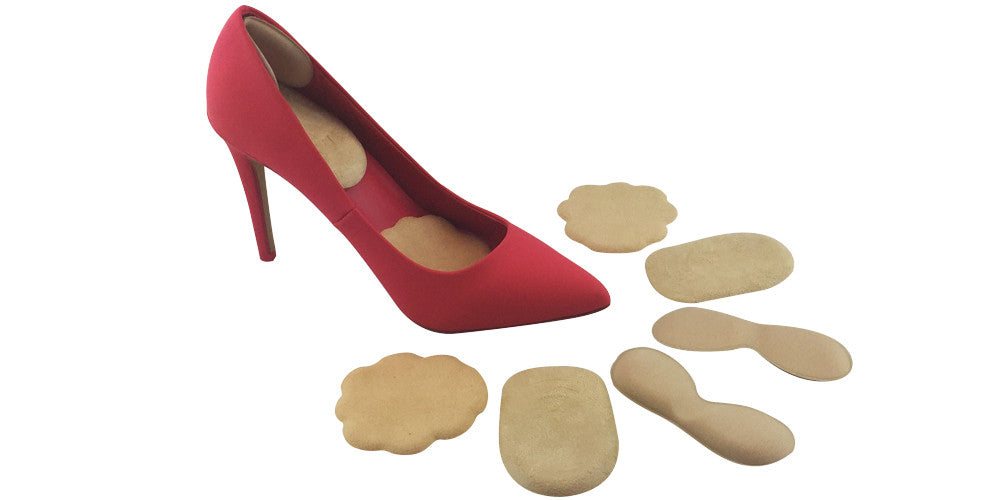 Scarlet Forefoot, Heel & Blister Blocker Cushions Combo
Lush Shoe Inserts for High Heels & Flats
Product Summary
No more wrecking your feet with every step. Scarlet's combination offering of Lush Shoe Inserts are best to deliver Happy Feet! Why wait to start your Happy Journey?
PROVIDES BALL OF FOOT & HEEL PAIN RELIEF & CURES SWEATY FEET: Manufactured with Enriched Gel and Soft Fabric to absorb shock and reduce pressure to increase comfort to the metatarsal bones & to reduce pain caused due to plantar fasciitis & heel spurs. The Plush Gel Cushion absorbs sweat, creates friction to prevent feet from slipping forward out of the shoe & provides arch support. Provides balance and improves stability for all day shoe wear.
PREVENTS BLISTERS & ENHANCES SHOE FIT: Back-Of-Heel cushions are Designed & Engineered to cover the back of heel such that it prevents blisters completely. They are manufactured with Poron and Soft Fabric cover that provides comfort to the back of the heel.
STRONG SELF-ADHESIVE LINING: Both Ball-Of-Foot and Heel cushions have RE-USABLE lining. To allow the Back-Of-Heel cushion to stay glued in its position, its designed with special poron material which is not reusable.
SUITABLE FOR ALL SHOE TYPES for Women Shoes: Flats, Sandals, High Heels, Boots. The perfect shade of beige suits all colors of Shoe Insoles
100% MONEY BACK GUARANTEE: Product Performance & Customer Satisfaction guaranteed! For more, visit our website www.scarletfreshshoe.com or send us a message on facebook @lovemydressshoe
Directions:
DIRECTIONS TO USE (Applicable to all three cushions): 1) Clean and dry shoe surface. 2) Remove self-adhesive cushion lining. 3) Press cushion firmly on shoe.
DIRECTION TO RE-USE (Applicable only for Ball-Of-Foot and Heel Cushions): The cushion has gotten dirty? It's not gluing as well? Hand wash your cushion gently with warm water and soap and let it dry naturally. This will not only help it last longer but will also help it in its performance.