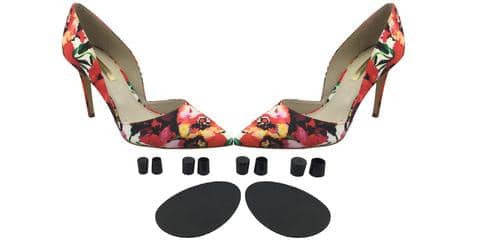 Scarlet Heel Tip LITE and Sole Shielder Bundle
Give Shoes a New Life Instantly
Product Summary
AN ON-THE-GO SOLUTION FOR WOMEN TO RESTORE & MAINTAIN THEIR SHOES
INCLUDES: SCARLET HEEL TIP LITE & SOLE SHIELDER COMBO SOLUTIONS
HEEL TIP LITE IS INSTANT, DISCREET, & EASY TO USE
SOLE SHIELDER REDUCES NOISE, PROVIDES COMFORT & IS ANTI-SLIP
100% MONEY BACK GUARANTEE
         Robust protection and support to the areas prone to the most wear & tear in shoes
Scarlet On-The-Go Shoe Repair KIT is a solution for Busy Women to make shoe noiseless, increase shoe life, protect from wearing out, and prevent slipping. Use the Heel Tip LITE and Sole Shielder on your brand new or in-use favorite pair of dress shoes.
WHY GET THIS KIT? Have shoes sitting in closet, basement, shoe rack, or stockpile, because they have damaged heels, make noise, or have damaged sole?Give Your Shoes a New Life INSTANTLY!

INSTANT, DISCREET, & EASY TO USE: The KIT has two products – Sole Shielder and Heel Tip LITE. The SOLE SHIELDER is an easy peel off & stick-on pad that covers the sole of a shoe. We recorded over 100 K steps (~50 walking miles) with it still fresh. HEEL TIPS LITE is a quick slip-on cap that easily slides on the heel tip of a shoe to prevent wear of original heel tip, or to cover a worn out heel tip including covering the exposed metal pin (if any).

REDUCES NOISE, PROVIDES COMFORT & IS ANTI-SLIP: Manufactured with material engineered to minimize clacking sound from shoe, provide comfort to your feet, and prevent slipping or tripping

100% MONEY BACK GUARANTEE: Product performance & customer satisfaction guaranteed! Read more about us on FB and Twitter @LoveMyDressShoe
                                                    Join our  #SavingAShoeIsSavingTheEarth Pledge
DIRECTIONS TO USE:
SOLE SHIELDER: With #ScarletRecipe301; it takes 3 basic steps and less than a minute to stick-on the Sole Shielder. STEP 1: Clean & dry shoe sole surface.  STEP 2: Remove adhesive lining from Sole Shielder. STEP 3: Press sole firmly on the shoe
HEEL TIPS LITE: With Recipe #ScarletRecipe201; it takes 2 basic steps and less than a minute to wear these heel tips LITE.
STEP 1: Sit comfortably with your heels on
STEP 2: Slide the heel tip LITE on your heel by holding it at an angle and wriggle it on the shoe heel cap for a snug fit. Press to secure firmly.
SIZING GUIDE:
SOLE SHIELDER has been designed to fit shoe soles of all sizes.
HEEL TIPS LITE - Refer to the images and follow the steps to measure the length & width of your heel using a scale. Depending on the shape of the heel and the wear on heel tips, one of the two adjacent sizes of Heel Tips LITE will fit perfectly. A tighter fit size is better than a loose fit.