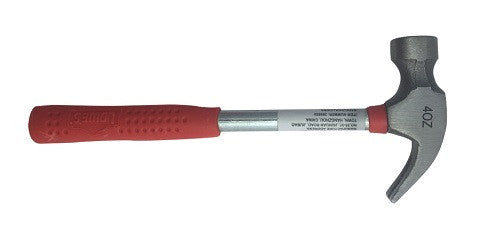 Lightweight Hammer
Stiletto Heel Tip Replacement Dowel Shoe Repair Tool by Scarlet
Product Summary
USED FOR HIGH HEEL SHOE REPAIR TO CHANGE HEEL TIPS

HEAT TREATED, HIGH CARBON STEEL HEAD FOR GREATER DURABILITY

WEIGHT: 4 OZ

BOUGHT WITH SCARLET HEEL TIP & LONG NOSE PLIERS

100% MONEY BACK GUARANTEE
Watch Scarlet Recipe # 422 to learn to  change Heel Tips on your favorite pairs of shoes. Light weight hammer - apt for the purpose
Lightweight Hammer is used for High Heel Shoe Repair to Tap In the new Heel Tip Replacement Dowel after the old one is removed from the heels
WHY GET THIS ONE? We tested 15 brands of Hammer and found this Light Weight style to be comfortable and handy for women and kids while being effective at tapping in the Heel Tip Dowel perfectly. Using the right tools is critical to minimize heel damage and ensure the success of heel tip replacement process.
SPECIFICATIONS:
Heat treated, high carbon steel head for greater durability
Weigh: 4 oz
Excellent tool of choice for shoe repair
GUIDE PLEASE: Lightweight Hammer is often bought together with Scarlet Heel Tip Replacement Dowels and  Long Nose Pliers.
100% MONEY BACK GUARANTEE: Product Performance & Customer Satisfaction Guaranteed! Read more about us on FB and Twitter @LoveMyDressShoe
                                          Join our  #SavingAShoeIsSavingTheEarth Pledge