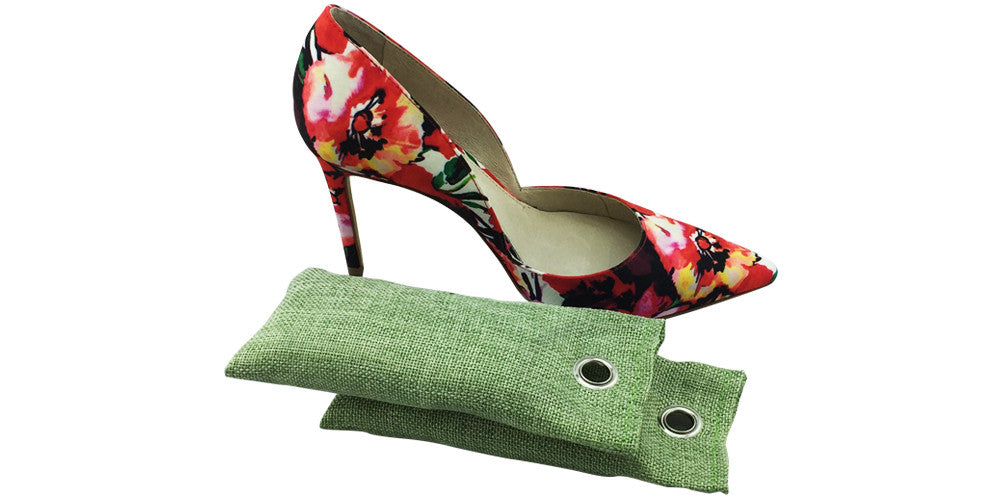 Scarlet Shoe Deodorizer Bags(2 pack)
Fix Stinky Shoes, High Heels & Sneakers
Product Summary
ELIMINATES ODOR, ABSORBS EXCESS MOISTURE & FRESHENS SHOE

DESIGNED TO BE EFFECTIVE ON ALL SHOE TYPES

CHEMICAL-FREE, FRAGRANCE-FREE & ECO-FRIENDLY  

RESTORE-REUSE-RECYCLE

100% MONEY BACK GUARANTEE

INCLUDES: 2 PACKS SHOE DEODORIZER & AN INSTRUCTIONS CARD
                             It's time to get rid of stinky feet and smelly shoes
Product Summary: 
ELIMINATES ODOR, ABSORBS EXCESS MOISTURE & FRESHENS SHOE: The activated Bamboo charcoal is a highly porous and fine material that acts as a sponge to trap odor particles and absorb excess moisture from the air & purify it. Keeps shoes fresh by preventing mold, mildew & bacteria from growing in them. Helps get rid of stinky shoes and smelly feet.
DESIGNED TO BE EFFECTIVE ON ALL SHOE TYPES: Specially designed and sized to fit narrow heels and wide/broad boots & athletic shoes.
CHEMICAL-FREE, FRAGRANCE-FREE & NATURAL: No hazardous chemicals or fragrances have been used. Non-toxic, odorless and fragrance free. Great for Gym Bags & Sports Equipment as well.
LONG LASTING, RE-USABLE & ECO-FRIENDLY: Can be re-used for upto 2 years with recommended restoring and can be easily recycled by cutting the bag open and spreading the charcoal in the garden.
100% MONEY BACK GUARANTEE: Product Performance & Customer Satisfaction guaranteed! For more, visit our website www.scarletfreshshoe.com or send us a message on facebook @lovemydressshoe
Description
Directions to Use:
1.Place bag flat all the way into the shoe.  2.Leave bag in overnight.  3.For best results; use daily.  4.Do not wash
Direction to Re-Use: RESTORE-REUSE-RECYCLE.
1.To Restore, place bags under direct sunlight for 1-2 hours each month.   2.Reuse for upto 2 years with recommended restoring.  3.To Recycle, cut open bag & spread the charcoal in your garden.