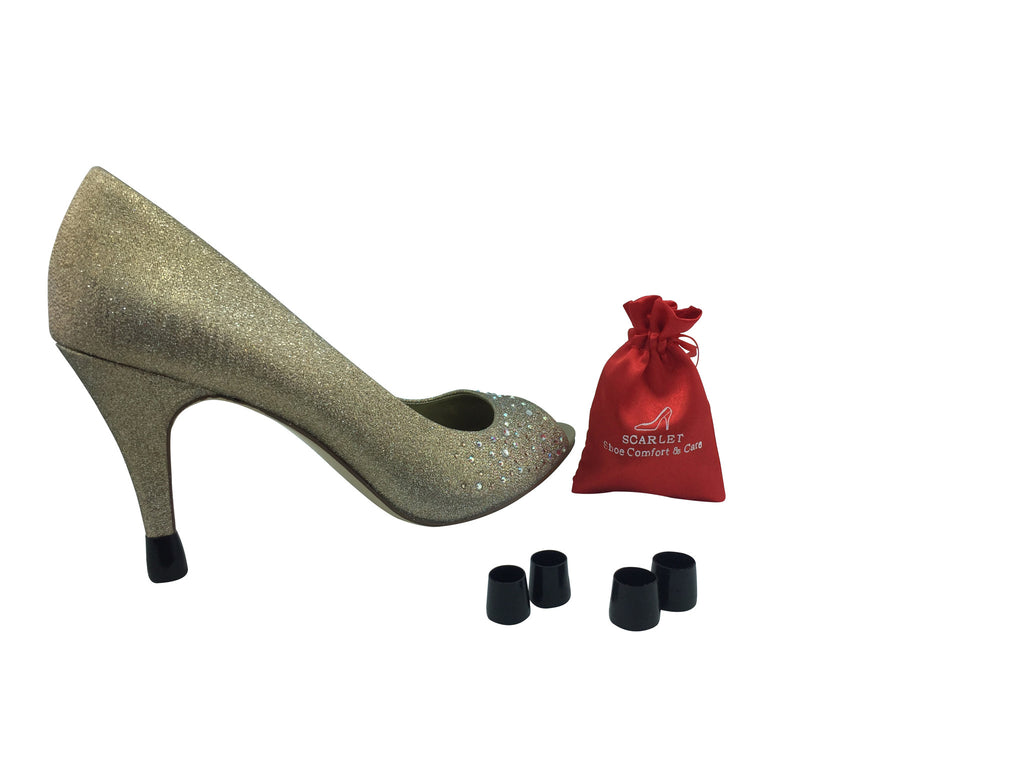 Scarlet Heel Tip LITE
Slip-On Heel Protector Cap to Instantly Repair Shoe & Reduce Noise
Product Summary
DISCREETLY REPAIRS & PROTECTS HEEL INSTANTLY

SIGNIFICANTLY REDUCES CLACKING NOISE, PROVIDES COMFORT & IS ANTI-SLIP

EASY SLIP-ON & ROBUST FIT

100% MONEY BACK GUARANTEE

INCLUDES: SCARLET HEEL TIP LITE & A REFERENCE GUIDE
                Quick and easy way to find out what size Scarlet Heel Tip LITE to order
Scarlet Heel Tip LITE is a Discreet, Quick & Easy Fix for worn out Heel Tip or Protects brand new Heel Tip.
WHY DO I NEED THIS? A perfect choice if you are On-The-Go and have less than a minute to fix your heels. 
DISCREETLY REPAIRS & PROTECTS HEEL INSTANTLY: Use it on your original heel tip (cap) or cover a worn out heel tip. It perfectly masks the exposed metal pin (if any).
SIGNIFICANTLY REDUCES CLACKING NOISE, PROVIDES COMFORT & IS ANTI-SLIP: Engineered to minimize the clacking sound of your high heels on all surfaces, designed to provide comfort and to prevent slipping or tripping.
EASY SLIP-ON & ROBUST FIT: Use #ScarletRecipe201 to wear the Heel Tip LITE in 2 simple steps & in under 1 minute (No tools needed). It snug fits on all Heel Shapes - round, U-shaped, square, rectangle.
GUIDE PLEASE: Scarlet Heel Tip LITE is often bought together with Scarlet Sole Shielder to instantly provide full protection to the shoe Heel Tip and Sole.
100% MONEY BACK GUARANTEE: Product Performance & Customer Satisfaction Guaranteed! Read more about us on FB and Twitter @LoveMyDressShoe.
DIRECTIONS TO USE: With Recipe #ScarletRecipe201; it takes 2 basic steps and less than a minute to wear these heel tips LITE.
STEP 1: Sit comfortably with your heels on.
STEP 2: Slide the heel tip LITE on your heel by holding it at an angle and wriggle it on the shoe heel cap for a snug fit. Press to secure firmly.
If your heel tip is completely worn out and needs replacement for a long lasting balanced shoe, try Scarlet's robust heel tips (ASIN # B01I0NK9PY).
SIZING GUIDE: Refer to the images and follow the steps to measure the length & width of your heel using a scale. Depending on the shape of the heel and the wear on heel tips, one of the two adjacent sizes of Heel Tips LITE will fit perfectly. Important note: We offer a combination of two adjacent sizes of Heel Tips LITE (ASIN #     ). A tighter fit size is better than a loose fit.